Former Good Morning America host Joan Lunden made a splash by appearing bald on the cover of People magazine last month. But she also made an important statement about the plight of uninsured cancer sufferers.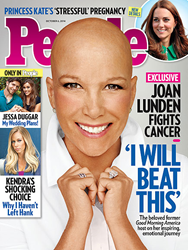 Cancer doesn't discriminate, but unfortunately our healthcare system still does.
Oakland, CA (PRWEB)December 02, 2014
Lunden, one of today's most prominent breast cancer patients, calls herself "lucky" after winning a battle with her insurance company. In her People interview, (Oct. 6, 2014) she asks, "What if you don't win against your insurance company? Or have insurance at all? Or the time to take the better part of the week off to get treatment? How many bosses are okay with that?"
"Lunden's shout-out for the uninsured highlights a predicament affecting hundreds of thousands of Americans today," says author, philanthropist, and founder of the Love From Margot Foundation Mike Murphy. "The American Cancer Society has found that uninsured patients are twice as likely to die as those with coverage, and tend to include more women and minorities. Even those with insurance often face loss of income and are unable to support their families while undergoing treatment."
In his recently released book Love Unfiltered (Next Century Publishing, Sept. 1024) Murphy tells the story of how he realized the enormous disparity between rich and poor when it comes to access to medical care. "Cancer doesn't discriminate," he says, "but unfortunately our healthcare system still does."
About Mike Murphy and the Love from Margot Foundation:
Mike Murphy lost his wife Margot to the disease in 2011, and in her memory, started the Love From Margot Foundation, which provides financial, emotional, and spiritual support to low-income and uninsured women with cancer in the San Francisco Bay Area and the Coachella Valley Region of California. Mike Murphy's Love Unfiltered is a powerful and inspiring story of love, loss, and redemption, highlighting the challenges faced by cancer patients and demonstrating the difference one man can make.
Original Article: http://www.prweb.com/releases/JoanLunden/MikeMurphy/prweb12364595.htm